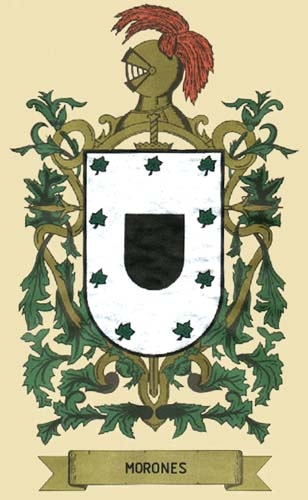 Descripción:
Noble, ilustre y antiguo apellido asturiano, que tuvo su primer solar, casa y torre en tierras del consejo de Gijón, y que según la leyenda, desciende de un caballero que en la batalla de Covadonga apresó a la hija de un rey moro con la que procreó varios hijos que por ser de madre mora, le llamaron "Morones".
Probó su nobleza en la Sala de Hijosdalgo de la Real Chancillería de Valladolid en 1541 y 1649, y repetidas veces en la Real Audiencia de Oviedo.

Sus armas:
Según el Cronista Rey de Armas Don Vicente de Cadenas y Vicente en su "Repertorio de Blasones de la Comunidad Hispánica", editado en Madrid en 1966, sus armas son las siguientes: En campo de plata un escudete de sable rodeado de ocho hojas de higuera de sínople a modo de orla.
Etimología y toponomástica: Como vimos anteriormente, el vocablo Morones proviene de la voz "moro", nombre dado por los españoles a los invasores sarracenos, por lo que resulta ser un apellido onomástico.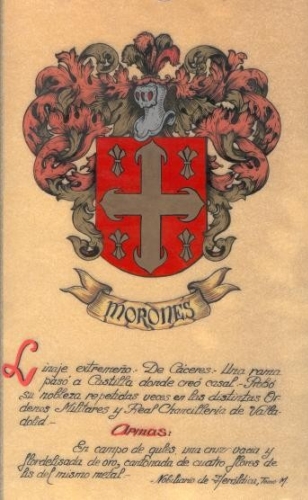 Description:
Noble, distinguished, old-established Asturian family name, had it's first solar, home and tower in the Gijon's board lands. According to the legend, it's descendant of a knight who battled in Covadonga and took a Moorish King's daughter captive, with whom procreated a few children. She was called Morones because her mother was Morish. She probed her nobility at the Hijosdalgo de la Real Cancillería de Valladolid's Hall in 1541 and 1649, and recurring occasions at the Real Audiencia de Oviedo.

Arms:
According to the King of Weapons and chronicler, Don Vicente Cadenas y Vicente, in his "Escutcheon repertoire for the Hispanic Community", edited in Madrid in 1966, his arms are as follows: In silver realm, a gusset of sword surrounded by eight verdant fig leafs as fringe. Etymology and toponym: As seen previously, the Morones term is derived from "moro", a name given by the Spaniels to the Saracen invaders, therefore, it' s a festively family name.
Bibliography:
Alejandro de Armengol y de Pereyra, "Heráldica", Barcelona, Labor, 1933.
Ignacio Vicente Cascante, "Heráldica General y Fuentes de las Armas de España", Barcelona, Salvat, 1956.